Advanced Studies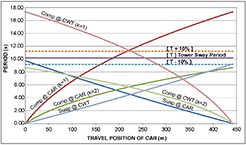 Rope Sway Study, 450m Shuttle Lifts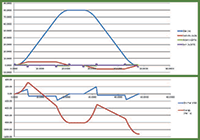 Rengerative Power, Evacuation Mode

Sean Morris, P.E., Principal,
sm@barkermohandas.com

Sean joined us in 2010, and in 2013 became a key Principal. He now leads or co-leads VT system design for most of our largest projects, and leads our work for design drawings, mechanical engineering, and complex traffic circulation studies. Sean has been involved in most of our projects since 2010 which have been over 100 stories such as PNB118 in Kuala Lumpur and World One in Mumbai, as well as a large airport in the KSA, the Miami Science Museum, and various office buildings such as TD Ameritrade HQ in Omaha, One Lodha Place in Mumbai, and Reforma 432 in Mexico City. He was also a major contributor to our studies of the existing elevators in the world's tallest building, Burj Khalifa in Dubai. He currently leads our work for the Block & Tower of the Hudson's Site in Detroit.

Earlier, Sean was Design Department Manager at Lerch Bates Elevator Consulting HQ, where he was responsible for leading design services for projects in the USA, and several international projects. He has designed elevator, escalator, and moving walk applications under many regional USA and international codes, and worked on a wide range of projects from tall/high-rise projects such as the 2nd tallest building in Chicago (1362ft, 415m), to airports such as the Las Vegas Terminal T3, convention centers and stadiums like the Doha Qatar Convention Center, Georgia USA Gift Mart, and Charlotte Arena, to custom elevators for the LA County Museum of Art – BCAM.
Like all our key consultants, Sean also has technical experience with elevator products, in his case with KONE Montgomery where he supplied mechanical engineering designs, drawings, and materials lists for custom elevators for manufacturing and installation. In that role he also worked with architectural, structural, manufacturing, and field teams throughout the product design and installation process; provided product and process improvements, and helped train, mentor and check work for new engineers. This experience has been taken to a new level with us in provding design solutions now followed by several elevator manufacturers involved with our projects, and in providing guidance to our engineers in Dubai on their projects.
His advanced studies with us cover rope sway resonance for tall travel shuttle lifts to determine parking and opening locations, a regenerative power study for an evacuation mode to confirm advantages for emergency power, studies of drive power vs. enery consumption, special simulations of destination dispatching to show peak main lobby queues per elevator car, and he co-authored our study of elevator safety devices going beyond current codes. Sean also holds a BS in Mechanical Engineering and is a Licensed Professional Engineer (P.E.).
Résumé
Barker Mohandas, USA
Principal
Associate Principal
Lerch Bates World HQ, USA
Design Department Manager, Vertical Transportation
Senior Designer, Vertical Transportation

Mobile Tool International, Colorado, USA
Product Engineer, Truck-Mounted Aerial Lifts

Montgomery KONE Elevator, Texas, USA
Mechanical Engineer, Traction and Hydraulic Elevators

Triple/S Dynamics, Texas, USA
Mechanical Engineer, Material Handling Equipment